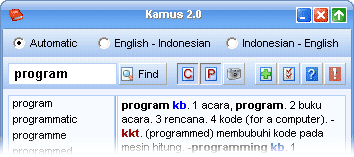 Kamus 2.0 is an English-Indonesian Dictionary and vice versa. This program is released as freeware for personal and non commercial used. For other usage just email me. Even many dictionaries software available, this software is different from the others, it tries to give you more easily translate words and also help in reading.
Key features of this software are:
Small size for easy distribution
Simple and easy user interface
Fast Searching
Automatic search between English and Indonesian languages
Clipboard monitoring
Compact Mode
Smart Find
Auto remove non alpha character such as !',:;.?"-)\(*/+, etc
Highlight result for Indonesian
Find exact word, contain text and Phrase.
Adding new word and phrase
More that 41.000 English-Indonesian word, 35.000 Indonesian-English word
and more that 64.000 phrase.
20 nice skins with optimization
Support Transparency ( Win 2k, XP and Up )
Kamus was released as Freeware. Download Kamus ( 2.8 MB ) for another downloads, see the Download Section.
Ditulis oleh Ebta Setiawan (pada hari Kamis, 26 April 2007)
Kategori Kamus dengan tags : Kamus, Kamus 2.0, Kamus offline
Sudah dilihat 10,976 kali dan sudah ada 25 komentar. Ingin selalu mendapatkan informasi artikel terbaru lewat email ? Daftarkan email di RSS feed
Tanggapan/komentar dari artikel ini :
#1

Dida
April 26th, 2007 at 10:11 am

Subhanallah,.. Alangkah baiknya jika karya-karyamu di rilis open source dan gunakan sourceforge.net untuk berkolaborasi dengan orang-orang yang akan mendukungmu.

Thanks!

#2

dedy
June 30th, 2007 at 12:01 pm

mau tanya nich….napa ya..aku download kamus v.2 ko ga bisa..ada peringatan the compressed (zipped)folder is invalid or corrupted…tolong ya jawabanya kirim ke [email protected]….thanks

#3

uzer
August 11th, 2007 at 6:10 pm

dedy.. mungkin kamu gunain download manager/semacamnya coba dl ulang aja.
————————————————————
wah bener2 makasich banget nich ma yg bikin. cape2 nyari kmana2 ternyata ada juga Thx…

#4

Hadi
September 18th, 2007 at 10:19 am

Thanks a lot guys..
Really helpful.

#5

kanee
April 2nd, 2008 at 1:21 pm

thx buat kamus nya, it helps me much..

#6

indra
April 9th, 2008 at 4:56 pm

apakah bisa untuk download ke nokia E90?

TKS

#7

Iko
July 25th, 2008 at 9:43 am

Saya numpang donload kamusnya yaa Pak. Terima kasih, karena kamus ini sangat membantu saya.

#8

wowo
July 27th, 2008 at 8:28 pm

oks trims

#9

herviadirp
August 4th, 2008 at 11:02 pm

Terima kasih kamusnya, semoga Yang Maha Menguasai Ilmu membalasnya, amin

#10

Iwan
September 3rd, 2008 at 9:36 am

Makasih banget atas kamusnya!!!
Sangat berguna sekali.

#11

lynn
September 14th, 2008 at 10:28 am

Salaam,

Terima kasih atas kamusnya banyak manfaatnya pada saya.Semoga budi baik Allah saja yang membalasnya.

#12

gilang
November 9th, 2008 at 3:51 pm

ko gak isa donlod mas….sekitar 500Kb selalu gagal….tolong bantuannya mas….jawaban kirim ke sini aja mas [email protected]

#13

ebta
November 10th, 2008 at 6:54 am

#14

jhonwu
December 10th, 2008 at 12:07 am

thank's kamus ny bos…

#15

naim
December 22nd, 2008 at 10:57 pm

thanks for U..

#16

bli
January 5th, 2009 at 12:34 am

Mas, program kamusnya sangat membantu nih buat translate kecil2an. Sayangnya belum ada ya untuk sistem operasi Mac OS X? Kalau bisa dibuat untuk versi Mac OS X, pasti lebih banyak lagi tuh yang terbantu ama program kecil ini.. Kecil2 cabe rawit…

#17

amith
January 17th, 2009 at 9:05 pm

thanks ya atas program kamusny nie…!!

#18

Xaverius
July 11th, 2009 at 11:10 pm

bisa buat bb bold 9000 ga?

#19

roter
August 30th, 2009 at 8:28 pm

saya mau cari bantu sofwere tvu-player.gimana cara menginstalnya ya?

#20

roter
August 30th, 2009 at 8:33 pm

saya mau tanya gimana cara bergabung untuk komunitas yahoo messenjer umtuk sering atau belajar dan untuk konsultasi yang baik.mohon penjelasannya,siapa yg membaca ini,soalnya saya masih pengguna baru(awam).

#21

ugg classic cardy
September 23rd, 2009 at 6:33 am

One thorn of ugg sale experience is worth a whole wilderness of warning. Practical wisdom is only to be learned in the ugg cardy boots school of

#22

Dina
October 28th, 2009 at 11:46 am

siapa anda begitu bijak sekali mengupload semua computer support, the heaven is waiting for you !

#23

cacak anis
December 23rd, 2009 at 2:06 am

tak ada yang pantas untuk membalasnya, kecuali terimakasih

#24

martins
January 5th, 2010 at 9:49 am

lumayan lah udah ada ebsoft nyediakan kamus,, btw ada gak kamus yang perkalimat, klo ada mohon di infokan ke saya bang !!! lewat email saya [email protected] thank u abang ku

#25

Dadang
January 9th, 2010 at 8:34 pm

Apkah bisa download ke hp cina untuk kamus..caranya gmana?